Let's revisit some of our favorite master bedrooms of the year.  The master is a space that embodies everything we try to evoke and reflects our name – it should be a sanctuary for its owners to retreat to after the chaos of everyday life.  It was hard to narrow the list down to 10…but here goes!
#10  Everything about this master is calming and peaceful.  Buyers thought so too!  Sold with multiple offers, well over ask within hours!
#9  We loved the cozy vibe in this master – from the mocha walls to the barn door, it's bliss.  Sold with multiple offers.
#8  Sometimes a master needs just a punch of color…this one featured turquoise with hints of green for a little added interested.  Sold within 30 days.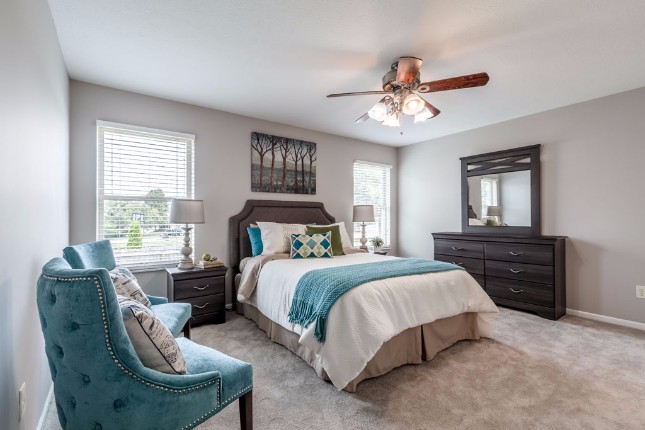 #7  Turquoise made a repeat appearance in this master in Dublin.  Sold within days over ask!
#6  We loved this gorgeous master retreat, featuring not only a lovely sleeping space, but also a great sitting room and a spacious closet.  Featured in an Ecpcon Community, this is one is the embodiment of #retirementgoals.  On the market in Grove City Ohio.
#5  Golf course living at its finest…this Grove City luxury listing is cool, calm and collected.  This beauty is still available and is waiting for just the right buyer.
#4  Not every master is huge, and staging small can create some challenges.  With luxurious fabrics and pillows with a hint of spa blues, this master presented well despite its smaller footprint.  Sold within 30 days.
#3  Neutrals don't have to be boring!  This Upper Arlington luxury listing is proof positive.  This one just hit the market, and we are sure it will go fast.
#2  Another study in neutrals, this Westerville master featured soaring ceilings and great light.  This one sold within 2 weeks!
#1  It was so hard to narrow down to just one, but what pushed this master over the edge wasn't the bedroom itself…it was the closet!  Total closet envy here folks!  Sold within 72 hours for full ask.
Stay tuned for more of our favorites of 2017!