Part 2 – Staging Large
Welcome to Part 2 of our Staging Large and Small Series! In Part 1, we covered some of the myths associated with staging: Home staging is only for half million dollar homes and up.  Empty rooms look bigger than those with furniture in them.  Buyers can see past the "stuff" and see themselves living in a home.  One by one, we busted these myths and shared some of the truths about home staging, featuring a cozy home of only 1,000 square feet.
So, let's move on to large. We recently staged a 3,400 square foot home in Kitzmiller Crossing in Blacklick, Ohio (located near Gahanna and New Albany).  The owners are a wonderful couple who are getting ready to begin a new chapter in their lives and live their dream – retiring to Florida. We first visited the home to begin planning how to stage this property for a quick sale after they held a full house tag sale and while they were still packing. Their goals were simple: design spaces where they could live for short period of time until their official retirement and sell the home quickly so they could fully close their "chapter" in Ohio and move on to a new chapter in sunny Florida.  The owners also partnered with an experienced, knowledgeable and very kind realtor, Betsy Neidenthal, who believes in the power of staging.
Sanctuary Staging took advantage of the wonderful features of the home to create a series of spaces any buyer would love. Take a look at some of the before and after pictures below.
First, the formal living and dining room.  This room is a large space, perfect for entertaining.  To help this space really shine, we lightened up the room and used tones of cream, silver and turquoise.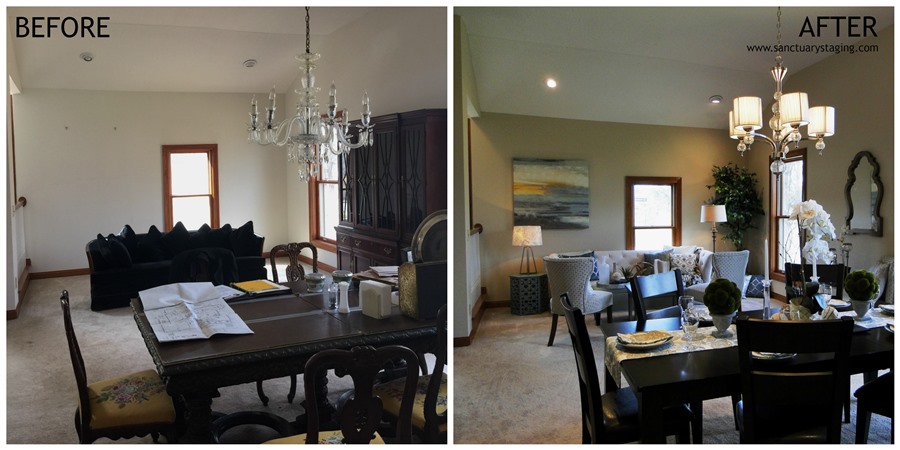 Now onto the family room.  With a open concept, wall of windows and soaring ceilings, new furnishings really helped this room show beautifully!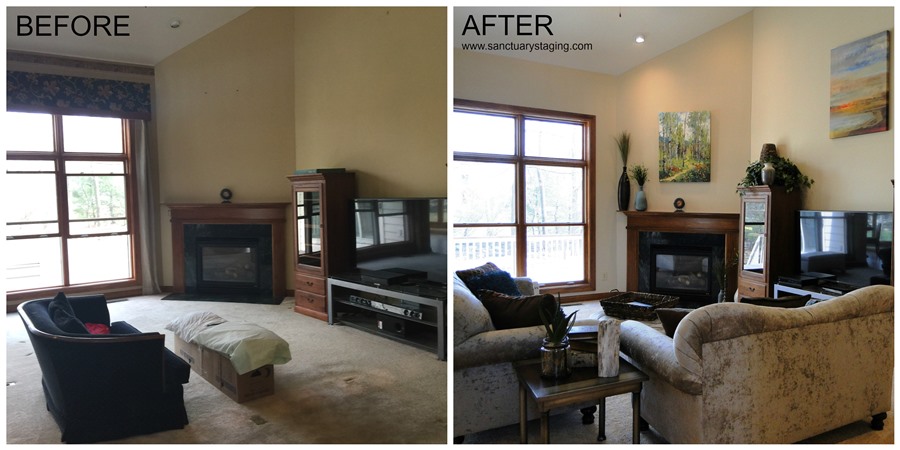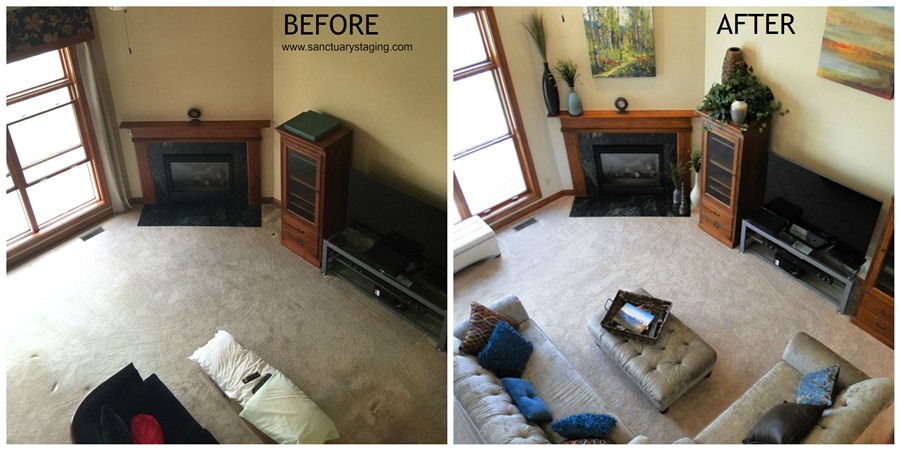 Turning our attention to the kitchen, let's take a look at a space perfect for cooking and enjoying a special meal!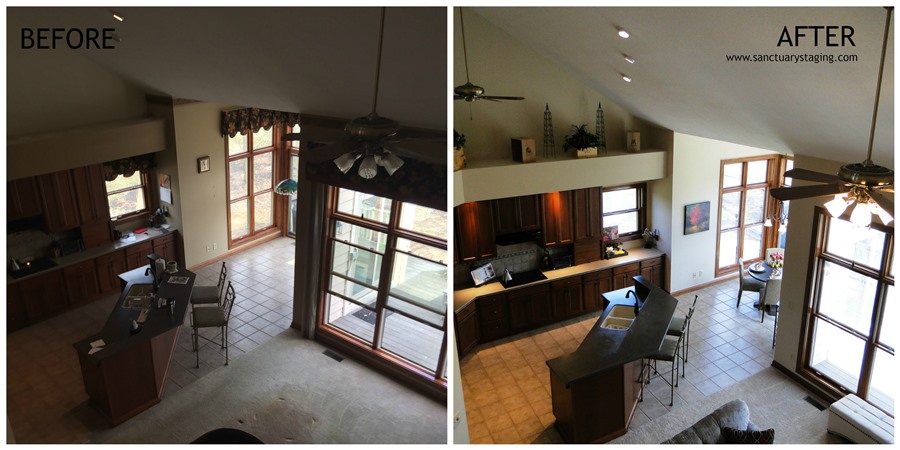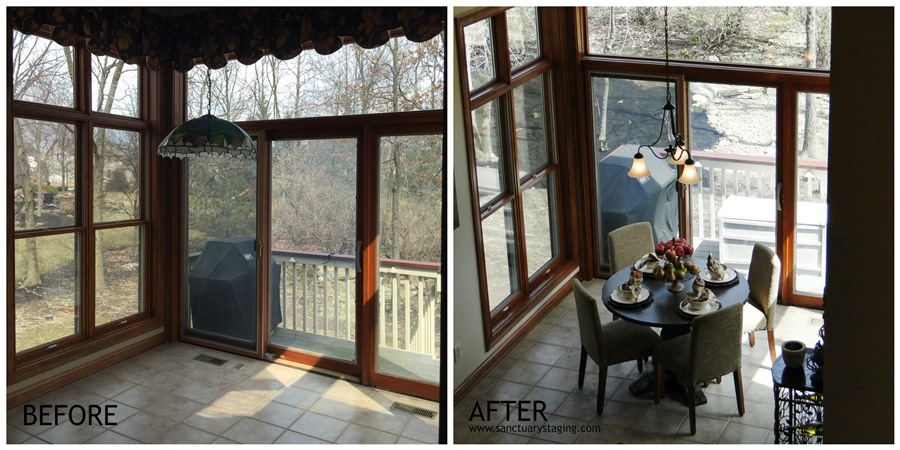 Master bedrooms should be a retreat for their owners, and all staged, this one is no exception!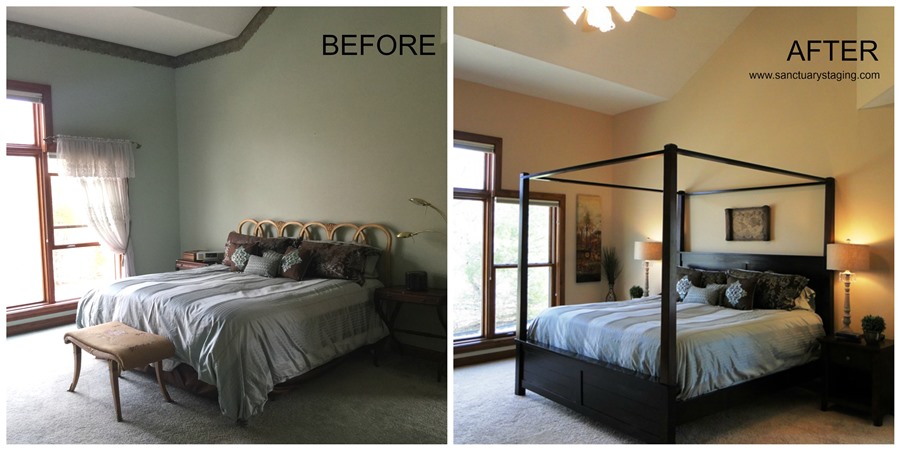 Finally, sometimes, you just need to get a little work done.  The staged home office shows that work can be made a little more enjoyable.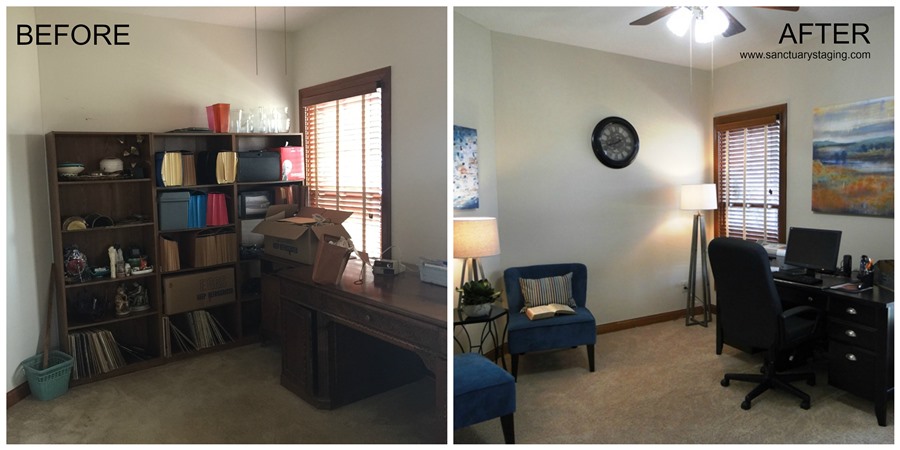 The result?  This wonderful home, at a higher price point of over $420K, received an offer one week after being put on the market, and went into contract within 10 days of being on the market. Feedback from showings was glowing.  Our owners are one step closer to living their dream and the buyers will soon be moving into their dream home.  Sanctuary Staging made the difference!