We were so excited to learn that we have won the coveted "Best of Houzz" awards in Customer Service and Design for 2018.  As the only company in the Home Staging category in the state of Ohio to win both awards,  we are so grateful to our clients and continue to be committed to delivering the best in customer service and design in 2018 and beyond!  Check out the press release below:
Sanctuary Staging and Styling of Columbus Ohio Awarded Best Of Houzz 2018
 Over 40 Million Monthly Unique Users Nominated Best Home Building, Remodeling and Design Professionals in North America and Around the World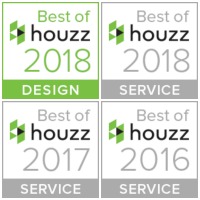 Columbus Ohio USA, January 18, 2018 – Sanctuary Staging and Styling LLC of Columbus Ohio has won "Best Of Customer Service" for the third year in a row as well as "Best Of Design" on Houzz®, the leading platform for home remodeling and design. The company, who primarily specializes in transforming vacant spaces into sold homes across Central Ohio, was chosen by the more than 40 million monthly unique users that comprise the Houzz community from among more than one million active home building, remodeling and design industry professionals.
The Best Of Houzz is awarded annually in several categories, including Design and Customer Service. Design award winners' work was the most popular among the more than 40 million monthly users on Houzz. Customer Service honors are based on several factors, including the number and quality of client reviews a professional received in 2017. A "Best Of Houzz 2018" badge will appear on winners' profiles, as a sign of their commitment to excellence. These badges help homeowners identify popular and top-rated home professionals in every metro area on Houzz.
"It is a tremendous honor to be recognized by Houzz for not only providing exceptional service to our clients for the third year running, but also for excellence in design." said Michelle Zarlengo, owner of Sanctuary Staging. "We are particularly proud of being the only company in the Home Staging category in the state of Ohio to win both awards in 2108, and we are incredibly grateful for the opportunity to continue to serve Central Ohio homeowners, real estate agents and investors. Our success continues to be measured by the impact of spaces we create, the speed at which our staged listings sell and most importantly, how our customers feel after working with us. These awards acknowledge our commitment to delivering the highest standard of service and design in our industry."
"The Houzz community selected a phenomenal group of Best of Houzz 2018 award winners, so this year's recipients should be very proud," said Liza Hausman, Vice President of Industry Marketing at Houzz. "Best of Houzz winners represent some of the most talented and customer-focused professionals in our industry, and we are extremely pleased to give them both this recognition and a platform on which to showcase their expertise."
Follow Sanctuary Staging on Houzz:
https://www.houzz.com/pro/sanctuarystaging/sanctuary-staging-and-styling-llc
About Sanctuary Staging and Styling LLC
Founded in 2014, Sanctuary Staging and Styling specializes in staging spaces that are warm and welcoming, a retreat from the chaos of everyday living. With an extensive inventory of furnishings, art and accessories, and years of experience in home design and staging, Sanctuary has helped Central Ohio sellers, realtors and real estate investors sell their homes quickly and for top dollar. As of the end of 2017, Sanctuary has staged nearly $20MM worth of real estate, ranging from a $115K condo to a luxury listing that sold in less than 30 days at over $2.3MM and is a three time winner of the "Best of Houzz" awards. Sanctuary is one of 35 staging firms across the country recognized and featured by Redfin, a leading real estate resource, and Sanctuary's home staging blog is listed in the Top 50 staging blogs around the world. Sanctuary is also a member of the SOLD over list club through the Real Estate Staging Association, with homes that have sold for $5K, $10K and even $25K over asking price.  For more information, visit www.sanctuarystaging.com.
About Houzz
Houzz is the leading platform for home remodeling and design, providing people with everything they need to improve their homes from start to finish – online or from a mobile device. From decorating a small room to building a custom home and everything in between, Houzz connects millions of homeowners, home design enthusiasts and home improvement professionals across the country and around the world. With the largest residential design database in the world and a vibrant community empowered by technology, Houzz is the easiest way for people to find inspiration, get advice, buy products and hire the professionals they need to help turn their ideas into reality. Headquartered in Palo Alto, CA, Houzz also has international offices in London, Berlin, Sydney, Moscow, Tel Aviv and Tokyo. Houzz and the Houzz logo are registered trademarks of Houzz Inc. worldwide. For more information, visit houzz.com.
# # #