Sanctuary Staging is known for attention to detail, and in real estate, the details matter. As a part of my certification process, I spent a significant amount of time studying the psychology of buying decisions, and I use that knowledge to help homes sell. Let's look at a few staged bedrooms, with a special emphasis on how little things can deliver a big impact, creating emotional connections that consciously and subconsciously pull buyers into a home. So first up, a master bedroom.
Notice how this bedroom represents a good balance between masculine and feminine. Dark, rich colors for him, lush pillows and accents for her. Two nightstands, two sets of prints and two lamps also reinforce the his and her theme. The use of a plant in the corner softens the room and balances the dark draperies in opposite corner. A cozy chair, with lumbar pillow and throw, whispers to buyers that this is a place  to read, to enjoy a cup of tea and or to just rest for a while. The nightstands reinforce this with candles (how romantic!) and books. Looking a little closer at the bed, notice the tray. All set with a tea pot and tea cups. The far right corner also features a mirror – helping buyers literally see themselves in the space – another subconscious impression.  This room is staged to sell. Let's look at another example.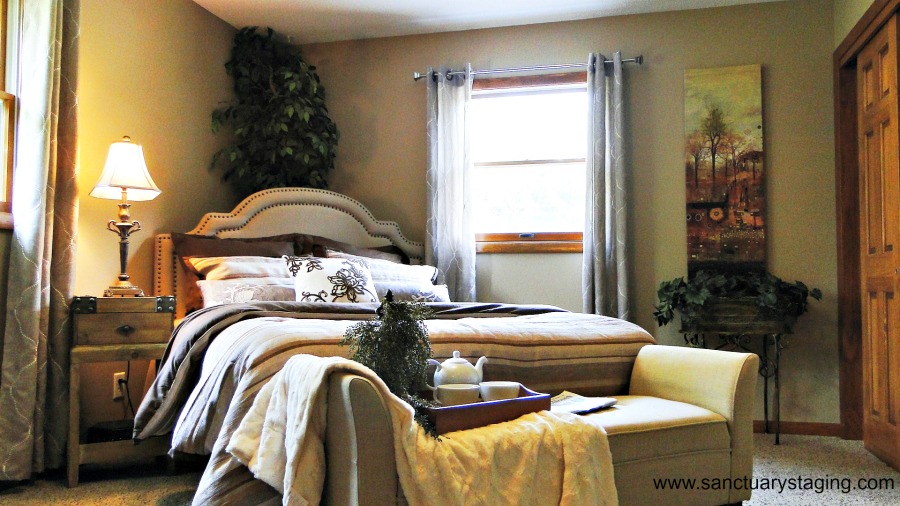 This room was a smaller master, so staging was very carefully done. Placing the bed on an angle at the far corner and the use of soothing neutrals make the space appear larger. An upholstered bench at the foot of the bed showed that there was plenty of space for a seating area, and again, the attention to detail is evident – note the tray set for tea, and even a copy of the morning's paper beside it. Greenery softens the space, while the art added visual interest and just a touch of color.  This room too, was staged to sell. And sell it did, for full price.
After viewing these photos, you might be saying "Who actually lives like that?" It is important to note that there is a definite difference between staging and living. If you are anything like me, you barely make up the bed before you rush out the door to start your day. That's living. Staging? It's all about creating the life you wish you had – the life where there's never any dirty dishes, breakfast is served in bed, friends gather for good times and there's always time to relax. Sounds awfully nice, huh?
Sanctuary creates the good life for open houses and provides sellers with ready to go vignettes (typically on trays for easy set up) to set out for subsequent showings. But with rooms staged like these, subsequent showings may not even be needed – we do have a bit of a track record for selling homes from a single showing or open house. Stay tuned for upcoming posts featuring other rooms in the home.